For years I had always received dramatic gasps when other gays found out I didn't watch RuPaul's Drag Race. My excuse was that I didn't have cable, or that I was too lazy to look for a torrent. Weirdly enough, before watching the show, I had seen quite a few alums perform in various cities close by. So I wasn't naive to what the show was or the stars it was sending out into the world. In fact, I had always told people that, "I know I'd like the show, I just don't watch." What I think was most shocking to people was that I was such a fan of drag.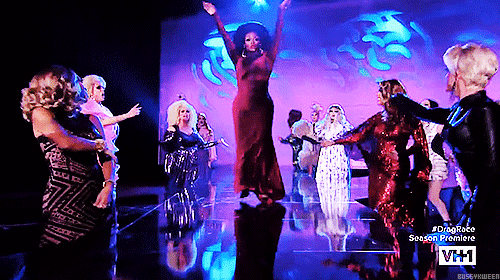 Mayhem: Queen of The Party
Ever since I had stepped foot into my first queer space, a little gay bar called VIP Nightclub in Riverside California, I had been obsessed with drag. Which is where I met Miss Mayhem Miller–the QUEEN of the party. She was my first introduction to drag and honeyyy when I say she set the bar high… she set the bar high. Fuck Yeah Fridays were Mayhem's night in more ways than one. She wasn't just the host… she knew how to turn the party. To be honest, there's always been something so incredibly captivating about Mayhem. She knows how to not only capture a room but command your attention in a performance.

For years, whether she stated it or not, those watching knew one of Mayhem's goal was Drag Race. She had seen so many she loved and adored walk through those workroom doors. In so many opinions of those around her, she deserved it. Plus, it also says a lot about a person who doesn't let rejection define them. And for years Mayhem Miller was constantly told no–until one day she wasn't. Season 10 was her time to finally shine. And even though she didn't get as far as she would've liked… those who aren't sleeping on this class act know that it's Miller time. She has proven that with determination, you can do anything you set your mind to. Though the end of her Drag Race journey made me cry, she left audiences with an important message:
You are all beautiful… don't you let nobody tell you differently.
Mayhem Miller, Heroine at Last
Mayhem Miller is the only reason I decided to watch season 10 of RuPaul's Drag Race. It's always going to be a season that I cherish because I got to watch someone I've always looked up to reach a dream. To watch so many people cheering her on, to see her fanbase increase, and to know that she deserves every single ounce of love in this world is such a beautiful experience. And I hope she knows that as season 10 is about to come to a close, that she didn't let a single person down. Mayhem Miller finally crashed the party, and honey ain't nobody can take that away from her.
SLEEP ON A BITCH IF YOU WANT TO… THERE IS A REASON IM CALLED MAYHEM!!! #trymebitch pic.twitter.com/DNs4bXbod8

— Mayhem Miller (@TheOnlyMayhem) June 24, 2018
– – –
If you liked this article you can check out both of my books, The Dark Dictionary and Unrequited, on amazon by clicking here.